GET ISH DONE CLUB
For Big-Dreaming Entrepreneurs with Even Bigger To-Do Lists Who Don't Want to Do it Alone
Join our monthly membership! We're an action-oriented community of entrepreneurs who need a little (or a lotta) support to stay focused, manage their time, and make big things happen in their business!
*Hint: All my neuro-spicy biz besties are gonna love this community!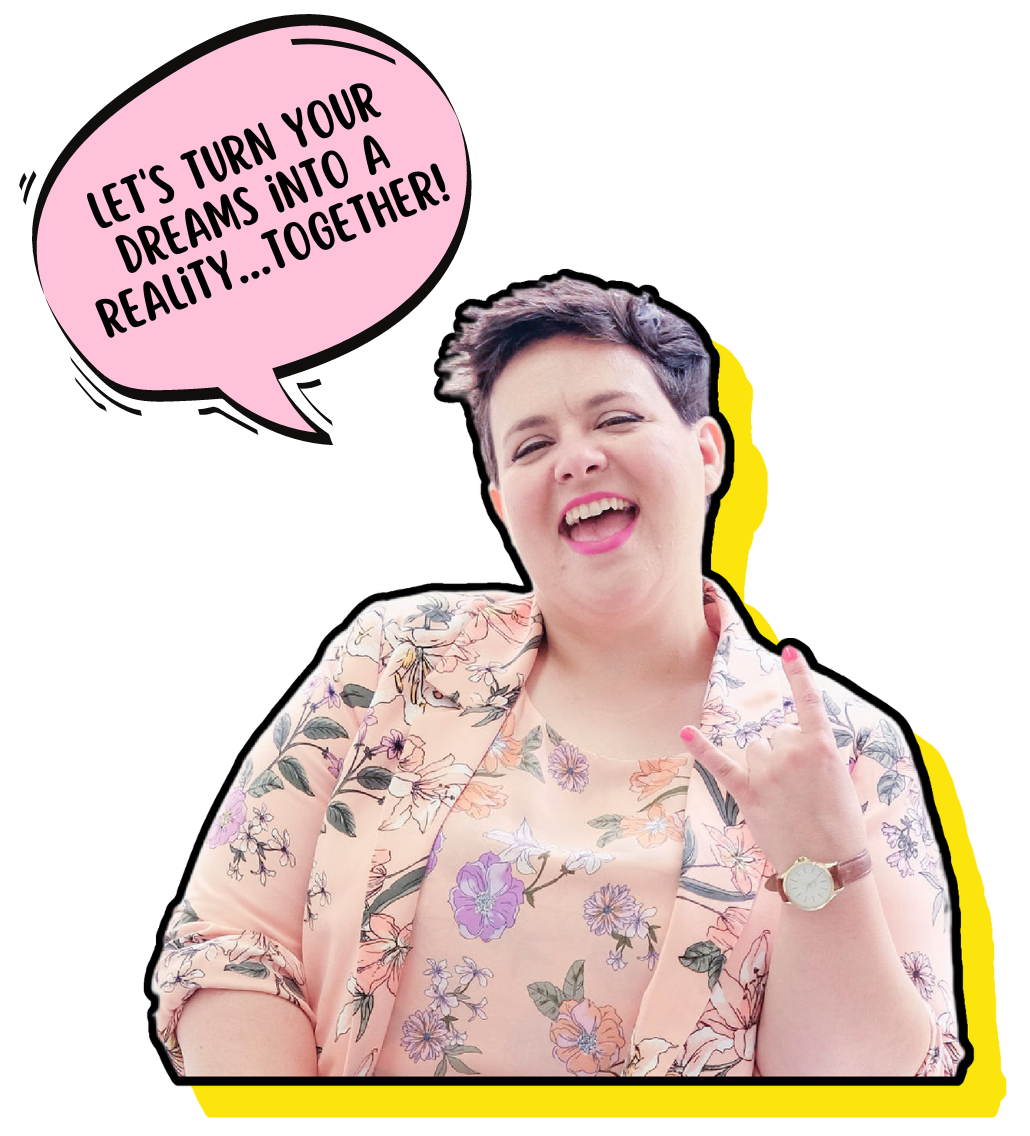 A GOAL WITHOUT A PLAN IS JUST A WISH
- Antoine de Saint-Exupéry
You can't build your business on wishes! You first need to make a plan and then get into strategic action to implement that plan. The more focused and strategic your implementation the faster your growth! Yeah, baby 🤩
Join the Club!
DITCH THE BUSINESS WISH AND LET'S IMPLEMENT YOUR

BUSINESS PLAN!
OMG! As a new entrepreneur, you wear soooo many hats and have so much work to do.
How often does your excitement and enthusiasm for launches, new projects, and fun new ideas quickly turn into throwing spaghetti against the wall and second-guessing your every move?
On top of that, have you noticed the busier you get the lonelier and more overwhelmed you feel?
You're working so dang much but for some reason, it feels like you're not getting anything done, at least not as effectively as you want to be.
Suddenly you're feeling pressured, frazzled, and like you're feeling your way through the dark...
When all you really want to do is create magic and change lives.
Add to that if you're dealing with ADHD, anxiety, ASD, or any other neurodivergence don't even get me started on executive dysfunction, decision paralysis, and what I call "noisy brain".
NOW, IF I HIT A NERVE LET ME TELL YOU SOMETHING...
THAT SOOOO DOESN'T HAVE TO BE

YOUR

ENTREPRENEURIAL EXPERIENCE!
DO YOU NEED SUPPORT, GUIDANCE, FOCUS, AND FRIENDS AS YOU IMPLEMENT YOUR ACTION PLAN?
Here's What You Get as a Member of the Get Ish Done Club...
🤘1x 4-hour Group Business Strategy Session
No More Guesswork as You Get into Big Action!
Bring your burning business questions and get real-time marketing and sales strategy Q+A every month to help you get clients, make money, and change the world.
🤘4x 2-hour Coworking & Content Batching Sessions Every Month
No More Overwhelm, Decision Paralysis, or Overthinking Slowing Your Growth!
Bring your to-do list and content ideas to our coworking sessions and get a month's worth of work done in a few hours.
🤘1x Monthly Action Planning, Goal Setting and Month-end Debrief Session
No More Aimless Busy Work or Fuzzy Action Plans Hemmeroghing Your Time, Money, and Energy
Use your Radical Roadmap, my 12-month sales strategy and action planner, to set goals, make a plan, and then debrief what worked and what didn't in your business.
🤘Private Members-Only Community to Make New Biz Besties
No More Trying to Explain the Entrepreneurial Experience to Friends and Family Who Just Don't Get It!
Connect, collaborate, and celebrate with like-minded (*ahem* kickass) entrepreneurs ... can you say biz besties for life?
🤘Weekly Mindset and Productivity Prompts for When You Need a Nudge to Stay Focused On Your Goals
No More Executive Dysfunction Tripping You Up!
Get tips, tricks, and tools for neurodivergent entrepreneurs (or those who just get in their own way #SoRelatable) to keep you moving forward, engaged and excited in your work, and crossing off your to-do lists with speed. (Goodbye impostor syndrome and comparison guilt!)
JOIN THE CLUB!
😅
GOODBYE OVERWHELM
Hellooooo clear path forward with a prioritized to-do list and simple, repeatable actions for faster growth and less work!
🥰
SEE YA LONELINESS
Welcome hive-mind brilliance and oodles of support and camaraderie while you work alongside like-minded entrepreneurs who get it!
🥳
TAKE A HIKE GUESSWORK
Get guidance, personalized strategies, and a path toward your big, bold biz goals with a marketing and sales coach ... me, Lindsay!
This is For You if You've Got Big Things to Do in Your Business and Want Support Staying Focused and Strategic as You Implement Your Action Plan!
Join the Club and Save the Date...
1st Tuesday of the Month
Business Strategy Q+A on Zoom
Spend 4 hours with us on the first Tuesday of the month from 9:00 am to 1:00 pm Pacific Time

Get your burning business questions answered in the Business Strategy Room
Bring your to-do list and get ish done in the Quiet Working Room
Connect and collaborate with other badass entrepreneurs in the Networking Room
1st & 3rd Thursday of the Month
Coworking on Zoom to Tackle Your To-Do List
Spend 2 hours with us on the 1st and 3rd Thursday of the month from 9:00 am to 11:00 am Pacific Time

Bring your to-do list and follow along with us using the Pomodoro Technique to get ish done!
These sessions are hands down the most productive two hours of your week
I always sneak in a bit of bonus business strategy
A chance to introduce yourself and get to know other members
1st & 3rd Saturday of the Month
Coworking on Zoom to Batch Create Your Content
Spend 2 hours with us on the 1st and 3rd Saturday of the month from 10:00 am to 12:00 pm Pacific Time

Ah, content batching ... the thing we always say we're gonna do and then 100% never do!
Bring your content ideas and focus on batch-creating your social media posts or long-form SEO content
Ask your strategic SEO or social media content questions
Get all your content done for the month!
Last Tuesday of the Month
Monthly Goal Setting, Action Planning, and Month-end Debrief
Spend 1 hour with us on the Last Tuesday

of the month from 10:00 am to 11:00 am Pacific Time
Whip out your Radical Roadmap and set your monthly Outcome and Process Goals
Create a clear, effective action plan to make your goals happen
Debrief at the end of each month to see how well your action plan worked and what you might need to tweak vs lean into!
The fastest way to tune into where you might be leaking time, money, or energy in your business
PRODUCTIVITY TOOLS FOR THE WIN!
Your membership includes your own Radical Roadmap, my 12-month sales strategy and action planner plus my Top 3 Priorities Notepad where you can write down your daily tasks then check 'em off and tear away the sheet at the end of your day. So satisfying!
THE BEST PART...
The Club is only $165 to start and then $99* per month!
*Regular price for the Get Ish Done Club is $200 per month. Join the Club in 2023 and lock in your membership at the founding member price of $99 for as long as the club exists!
Join the Club!
"Lindsay takes the

guesswork

out of

building a business

!
____ Rachel Lee, Brand Strategist
"Lindsay is a

lifesaver

when it comes to getting you unstuck

!
____ Anne Flamant, Dare & Defy Strategies
"The

focus

that Lindsay helps you achieve is

beyond amazing

😃"
____ Andrea Diaz, The Moodi Creative
Lindsay not only

knows their sh*t

like crazy, they also goes

above and beyond

to support their peeps. Lindsay is

the real deal

."
____ Belinda Clemmensen, Women's Leadership Intensive
Is there a minimum membership length
Will the Q&A Sessions be recorded?
Can I join the Club even if I don't have a business yet?
Should I join the Club even if I've completed from the Accelerator?
Will I have access to past Q+A recordings?
What if I haven't learned your marketing and sales strategies yet?
What is the Refund Policy?
What If I Want to Work Privately With You?
OH HEYYY, I'M LINDSAY!
Action taker is my middle name and I'm a big believer in ditching perfection and just getting ish done!
Oh, and I'm also neurodivergent AF and can appreciate the struggle of wanting to work but that dang executive dysfunction keeping you stuck in overwhelm, decision paralysis, and overthinking.
My trick?
Body doubling, the Pomodoro Technique, and a 3-task max to-do list so that I can actually GET ISH DONE!
Who the Heck is Lindsay and Why Should I Listen to Them?
If we haven't officially met yet, I'm a business strategist for service-based entrepreneurs who want to use their businesses to change the world! I help new entrepreneurs figure out how to get out get clients and make money using consent-based marketing and sales strategies.
I've been nerding out to all things entrepreneurship for 20+ years and have been teaching biz owners just like you how to make money with less work so you can get out from behind your laptop and go have a life.
I created the Get Ish Done Club for other big-dreaming entrepreneurs with great big goals who need support, guidance, and structure in implementing their action plans and making magic happen in their businesses.
And obviously ... want a supportive community of biz besties running right alongside them.
(Seriously, living in a post-pandemic world has taught me that I HATE doing things alone ... and we don't have to!)
Wanna Get Ish Done With Me?!
Join the Club!
GET YOUR BRILLIANT BUTT INTO THE CLUB
And let's focus up on the work that matters so we can ditch our screens and get back to having a life!
We're waiting for you to come play with us!
Join the Get Ish Done Club and let's make business magic together. You're going to get oodles of support, answers to your burning business questions, improve your business skills, and best of all a bunch of new biz besties running alongside you as you grow!
JOIN THE CLUB!